Jr. Artist Party Packages
Our private art workshops for kids include: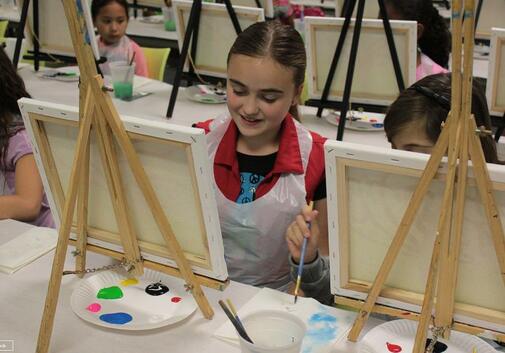 · Canvas (11X14 or 16X20)
· Paints, with refills
· Table top Easels for each guest
· Brushes (3)
· Painting apron/smocks for each guest
· Paper palette for paints
· Water cup

ARTbeat will also provide a talented and charismatic artist to lead the painting portion of your event. Through step-by-step instruction, each guest will create their very own painting to take home with them along with memories from a fabulous celebration! An ARTbeat artist will setup and cleanup for each event, making the experience truly hassle free for the host & the guests.


---
Mini Picasso Party

1- 1.5 hr. Painting Party
(recommended for ages 5-12 years)

Includes:

Setup & cleanup

Painters ages 5-7 will be painting for approx. 1 hour.

Painters ages 8 + will be painting for approx. 1.5 hours

Includes all art materials & instruction

Table covers & painting aprons

Select your painting from our

GALLERYYou Supply:

Guests!

Location with Tables & chairs or

RENT A CREATIVE SPACE

Food & beverage (optional)

Cost:

$100 flat rate for 1-6 children (on 11X14 canvas) $120 flat rate for 1-6 children (on 16X20 canvas)

If more than 6 children, pricing is per child:

$15 per child- 11X14 canvas

$20 per child- 16X20 canvas

Birthday child paints for FREE for parties of 7 or more painters!

We travel anywhere within San Diego county for FREE! We charge an additional .30/mile fee for travel to Murrieta, Temecula, Orange County, Los Angeles, Palm Springs and other Southern California communities outside of San Diego.

Van Gogh-A-Go-Go

2 hr. Painting Party
(recommended for ages 13-17)

Includes:

Setup & cleanup

2 hour painting party with instruction & all art materials

Table covers & painting aprons

Select your painting from our

GALLERYYou Supply:

8+ guests

Location with Tables & chairs or

RENT A CREATIVE SPACE

Food & beverage (optional)

Cost:

$140.00 flat rate for parties of 1-7 painters

​$20 per painter- 16x20 canvas for 8+ painters

Birthday child paints for FREE for parties of 9 or more painters!

We travel anywhere within San Diego county for FREE! We charge an additional .30/mile fee for travel to Murrieta, Temecula, Orange County, Los Angeles, Palm Springs and other Southern California communities outside of San Diego.

Wand Workshop

1-1.5 hr. Wizard Wand Workshop
(This workshop involves using hot glue guns. Participants must be ages 8+ only)

Includes:

Setup & cleanup

1-1.5 hour wizard wand workshop

Table covers, aprons, wooden starter wands, hot glue guns, paint, beads, glitter, decor items

Introduction to basic wand movements to try out our wands

Lead by ArtBeat teacher, Lauren Grace, from the United Kingdom

You Supply:

Location with tables & chairs with access to power outlets for our hot glue gun station or

RENT A CREATIVE SPACE

Food & beverage (optional)

Cost:

$100 for 1-4 children

$25 per child for 5 or more children

Teacher can accommodate a max of 10 children for this experience

Please note:

We cannot offer this experience in a park or outdoor space that does not have access to a nearby power outlet. We can provide extension chords up to 15 feet.

Travel Fee Information:

​.30 cent per mile travel fee for offering this experience outside of San Diego County. We also charge a travel fee to offer this experience in the following San Diego communities and their nearby neighborhoods: Oceanside, Vista, Escondido, Lakeside, Alpine, Ramona
In addition to kids art parties, we also offer:

Art classes for kids & teens

Art camp for kids

Family painting workshops

Art after school programs

Art Events for fundraising

LEARN MORE