ArtBeat Team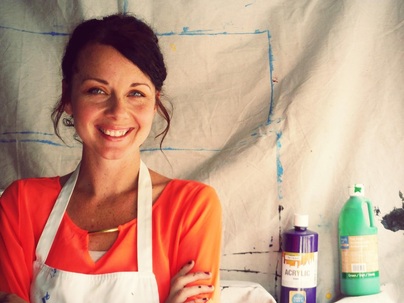 Kristel Boe
Owner & ArtBeat teacher
View Kristel's gallery artwork HERE

Kristel founded ArtBeat in 2013, after building her teaching experience working for a variety of art institutions in San Diego. Kristel found their was a void in institutional art teaching, as budding artists were being discouraged from creative expression, and taught to focus more on art method. She wanted to provide an artistic outlet to adults and kids that was centered around the heart & soul, as she feels this is the birthplace of creative expression.
Thus became "ArtBeat"... an instructional based artistic experience with wiggle room for creativity & artistic exploration, with an emphasis in happiness.
Kristel believes that having time to play, be creative, and explore is what makes people happy, regardless of their age. She believes her purpose in life is to help people discover happiness, with ArtBeat as a means to do so. Since forming ArtBeat, Kristel has had the pleasure of teaching throughout San Diego, Southern California and Baja/Mexico. ArtBeat currently averages approx. 50 private events a month and she attributes the success and growth of the company to her fabulous team of teachers that make ArtBeat possible!
In her free time, Kristel is an avid kayaker, hiker, animal lover and adventurist. She loves to travel and in the past few years has visited Thailand, Guatemala, Ecuador, China, England and France. Her goal is to visit every continent by her 40th Birthday.
---
​Glenda Boe
ArtBeat Teacher: Kids & Adult Events
Glenda is a dynamic art teacher that primarily focuses on ArtBeat kids events. A self taught artist, Glenda believes everyone has the ability to shine as an artist, given a bit of instruction and practice. Glenda finds joy in helping children express themselves through creative projects, while also offering easy to follow techniques to enhance their artistic ability. Glenda enjoys all things crafty! In addition to painting, Glenda spends her free time scrap booking, beading, and gardening. Glenda is the mother of ArtBeat teacher, Kristel Boe, and has taught Kristel everything she knows about patience, kindness and helping others.

Shannon Martin
ArtBeat Teacher: Kids & Adult EventsView Shannon's Etsy shop HERE

Growing up in New Jersey, Shannon always had a love for art and design. She majored in Studio Art at Wake Forest University before moving to San Diego for her Masters in Architecture. Shannon creates everyday, painting in her home studio, or crafting. She draws inspiration from nature, friends & family, and from the North County surf culture. When Shannon is working on her own artwork, she can feel stress melt away, quieting her mind. She believes the act of creating is therapeutic and anyone can benefit from getting lost in their painting. She is excited to share her passion for painting with you!
---
Donna Pilkington
ArtBeat Teacher: Kids & Adult Events

Donna is a San Diego based artist and teacher at an atypical high school. She has always loved the arts. She enjoys organizing, crafting, crochet, card making, sketching, and painting. She has an affinity for detail in her artwork and enjoys all types of art styles and genre. Donna especially loves incorporating Doctor Who's Tardis and other fandom into her artwork. She loves helping to nurture the creativity of others and seeing the artistic interpretations of each individual student painter

Eryn McCarty
ArtBeat Teacher: Kids and adult events
​Eryn

is a southern California native who's her love for art started as a small child. She began art classes in middle school and hasn't stopped since. With experience in everything from street art to acrylic painting, she draws inspiration from bright colors, beautiful nature, and unique textiles. When she's not teaching at art beat she can be found teaching children's art classes for a local school, at the beach with her dogs, or on a road trip.

Eryn

loves working with both kids and adults to help them find their creative magic mind and always likes to have fun while doing it.

Alex Oat
ArtBeat Teacher: Kids and adult events
View Alex's photography portfolio HERE

Alex is an artist and teacher of multiple traits. She studied photography in Maui and has been working as a professional photographer for over 10 years. A self taught painter, Alex has dabbled in all art mediums. She enjoys working with acrylics and watercolors best. Alex is a mother of two and loves to inspire kids with art and self expression. A former coach and lacrosse coach, Alex has been a teacher, coach and artist for over 20 years. Capturing life's beautiful moments through art is Alex's specialty!

Meryl Hamilton
ArtBeat Teacher: Kids, Adult & Corporate EventsView Meryl's Art HERE

Meryl is a San Diego based artist and yoga teacher. Originally from New Jersey, she attended college at Philadelphia University and after living for 5 years in Philadelphia, she moved to New York City. Meryl lived and worked as an Interior Designer for 8 years in Manhattan and moved to San Diego in early 2015. Her education and professional background stem from many years as an Interior Designer. Working in a creative industry, Meryl needed more of an outlet than strictly design work. She decided to take painting from just a lifelong hobby to a professional level and has studied under many teachers in NYC and continues her education by currently attending classes in the art of oil painting.

Aubrie Williams
ArtBeat Teacher: Kids & Adult Events

Since childhood, Aubrie has been inspired to create art, express and hone her creative skills. An artist of many sorts, she enjoys singing, playing guitar, writing songs and poetry, drawing, painting, pastels, crafting, photography, dancing and hulah-hooping. She believes creating art is for everyone and is not only therapeutic, but essential for a healthy self esteem and problem solving skills. Aubrie is dedicated to inspiring others into creative expression, of all kinds, in hopes that we may all blossom in creativity! ​
​


Lauren Grace
ArtBeat Teacher: Kids, adult and corporate events

Lauren is originally From England and has traveled and lived throughout the world and through out the U.S. Lauren now calls San Diego home and enjoys full filled days with her two boys and husband. Lauren's interests include t

eaching Yoga and

Zumba classes, stage acting/performing, crafting and sewing, and of course-- painting! Lauren also has a side business offering

Acu-pressure Chair Massage and works with her husband to opperate their o

wn Up-Cycle company called Good2bgreen. Lauren is thrilled to introduce the benefits of creative expression painters of all backgrounds!
---
ArtBeat Consultants
Members of our creative team are available for hire for special art related projects!
Joy
Floral Design, Eco Orbs
& Interior Design consulting

Joy currently works at a grassroots agency in San Diego as a Supported Living Coordinator, which creates customized housing situations in ordinary places. In addition, she independently organizes inclusive social events in various communities centered around her interest in the environment, art and feminism.

​

LEARN MORE
---